Remarkables Primary School
Remarkables Primary School, Queenstown, New Zealand
The Remarkables Primary School is the first school in New Zealand to have a green roof. A need for greater learning space plus a desire to 'blend' the school into the landscape were the driving forces for this school's green roof. The green roof is situated alongside a boardwalk that acts as the schools unique entrance way, meaning the roof is a big part of the school's look and feel. The plan is that this area will also be used as an outdoor classroom.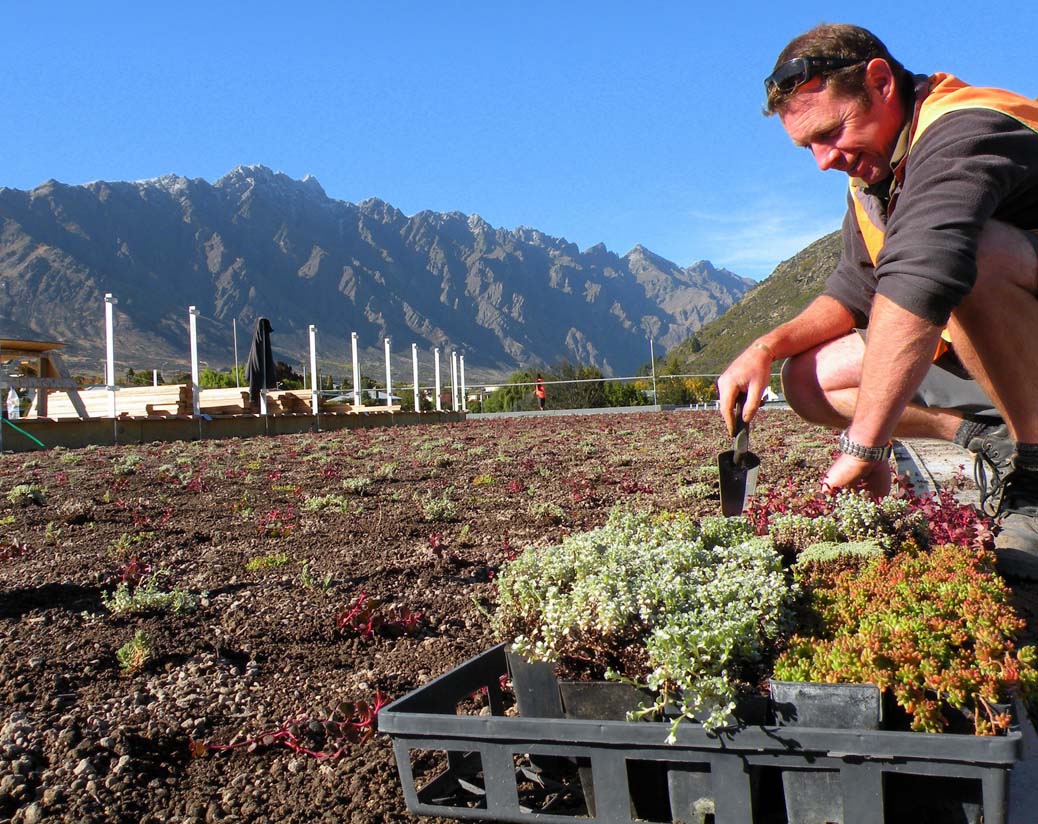 Location: Remarkables Primary School, Queenstown, New Zealand
Client: Ministry of Education
Architect: Michael Bilsborough, Babbage Consultants NZ
Project Manager/ Contractor: Naylor Love
Development Type: Primary School
Client Brief: To develop roof top gardens adjacent to the schools main boardwalk, which is also the main entrance into the school. The green roof is to be used to reduce stormwater runoff, to help with absorbing aircraft noise from the nearby airport and to help the building merge into the landscape around it. The roof areas of each of the pods are to be used by staff and pupils at the school as outdoor classrooms – the school site is approximately half the size of a typical NZ primary school site – the space on the roof is envisaged as extra outdoor play and learning areas.
The plants need to function well in cold winters (frost and snow) and extreme heat in the summer, and need relatively low maintenance. They also need to be attractive/aesthetically pleasing as can be directly viewed as part of the outdoor classroom concept.
Green roof Design
This green roof was installed in two phases, Phase 1 in April 2010 and the remaining planting was installed in November 2010 to miss the frosty season. The total green roof area is 825m2 and is situated alongside a boardwalk that runs over the school roof, which is used as an entryway to the school. The plan is to use the area as an outdoor classroom. The green roof is made up of a wide variety of sedum and succulent plants manually planted into the growing medium. The plants, which will turn into different colours throughout the year, were chosen for their hardiness so they would be able to survive the cold Queenstown winters.
Comments: Minimum maintenance will be needed once plants have become established.
Completion: Stage One – April 2010
Stage Two – November 2010